As many people suffering spring allergies prepare to cope with terrible symptoms in Spring, it's no surprise that many yearn to find a better way on how to cure allergies. Boostceuticals Quercetin offers a natural and long lasting benefit against seasonal allergies.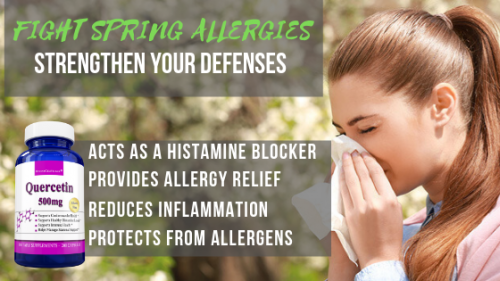 New York NY, United States - February 21, 2019 /MarketersMedia/ —
For almost 35 million Americans, the coming of spring would mean something other than lovely warmer weather and pretty flowers. It's the annual increase of seasonal allergic rhinitis commonly known as hay fever. Before leaves even appear on their branches, trees and flowers already begin spreading pollen. While there's not much one can do about the air outside and the outdoor environment; you can certainly take steps to minimize how bad you feel.
Unfortunately, there is no cure for allergies that's 100 percent effective. There are however different remedies for allergies that can help to minimize symptoms and reduce the risk of triggering and worsening symptoms in the future. These can provide wonderful and welcome relief. Some can even find over-the-counter and prescription antihistamines and decongestants, as well as low dose steroids. The bad news is, that nearly half of seasonal allergy patients are unhappy with how slowly their prescription medicines work and many patients still need to experience breakthrough of severe symptoms despite using a seasonal allergy medication.
The good news is, more can be done to relieve allergy symptoms that interfere with daily life. More and more people are now looking into natural allergy medicine, like natural energy supplement Quercetin. Quercetin is a strong antioxidant, with anti allergy, anti-viral and gastro-protective activity. Unlike standard antihistamines, Boostceuticals Quercetin offers a wider range of natural health benefits than simply relieving allergy symptoms. With its natural properties, Quercetin helps stabilize mast cell membranes and prevents the release of histamine and other inflammatory agents. Boostceuticals higher dose Quercitin 500mg acts as a histamine blocker, boosting the body's natural response to potential allergens. Due to its antioxidant effect, Quercetin can inhibit inflammatory processes mediated by leukotrienes, hyaluronidase (collagen-destroying enzymes), and lysosomal enzymes (promoters of localized inflammation). All these actions prevent the common symptoms that one can experience, including reduced inflammation in the nose which can feel great like getting rid of that flu-like feeling.
Experts believe that Quercetin is a 'safe, natural therapy', and as it is found naturally in foods, it is unlikely to cause any damage to the body as it is completely natural. With this natural power to combat allergens, Boostceuticals Quercetin is a proud member of the natural anti-histamines family. It is also well known for its anti-oxidant and anti-inflammatory properties.
About Boostceuticals Nutrition
Boostceuticals is dedicated to supporting people on their pursuit of health and wellness. With the right blend of nature and science, all Boostceuticals supplements are manufactured to the highest-quality standards in the USA in an FDA certified facility adhering to all GMP requirements.Every step was made to ensure the development of superior and fine quality nutritional supplements. With its use of natural ingredients and being GMO free, it has become the sensible and healthier choice for every American household.
Contact Info:
Name: Alicia Walters
Organization: Boostceuticals
Address: 228 Park Avenue, S# 71493
Website: https://amzn.to/2IsoUaX
Video URL: https://www.youtube.com/watch?v=rgVTKVKfO4I
Source URL: https://marketersmedia.com/the-best-kept-secret-to-overcoming-spring-allergies-this-season/484494
Source: MarketersMedia
Release ID: 484494